We often talk about working towards a liberated society. That we are organizing for a just & equitable world. But when do we stop, join in community & collectivity define & envision what these phrases mean to us in the context of the work we do? When do we create a vision for what a liberated society looks & feels like? When do we take that vision & develop a concrete map of our work, to do our part of movement work to get to our vision of the world?
Saturday, April 19th 2014, thirteen United We Dream boardies threw down, got creative & innovative, & created a pictorial manifestation of their organizational commitment.
"We are a commitment to building a transformative, inclusive, immigrant youth-led organization for the sake of a liberated society"
Using Universal Partnership's new tool to map out a developed vision, "Arc Of Change", UWD boardies began by developing a somatic representation of a liberated society. The results were amazingly beautiful (see scrolling pictures above/below). And then this happened…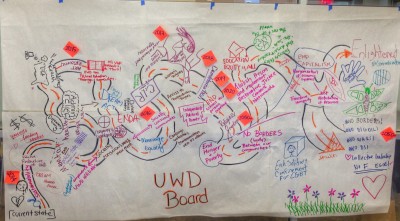 "In our daily survival-mode lives, we can't stop & think about what are the images of the kind of world we are fighting for? What does it look like & how do we get there? We have to dream our vision so we know what it looks like when we get there. We have to envision what a liberated society looks like so we know what we have to do to get there!"
It's not just a roadmap to what UWD will do, in the context of their work & their slice of the broader movement… it's the map of the human heart, the center of gravity for a liberated society.