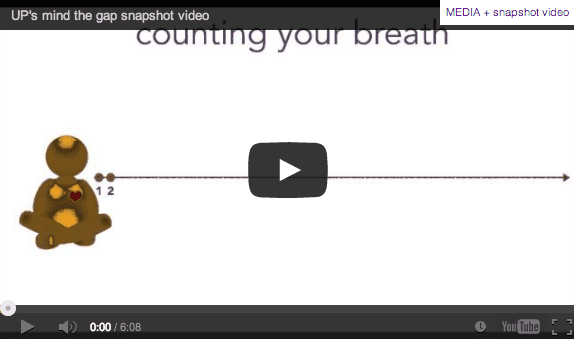 You've been waiting for it… You've been aching for it… Your leadership has been thirsting for it… and now, yes NOW, it's here in all its splendor and glory!
MIND THE GAP snapshot video is here to virtually teach you how to meditate, just in time for Universal Partnership's #30DaysUP meditation challenge.
Geared for social change agents, this is Universal Partnership's 2nd snapshot video. Narrated by angel Kyodo williams, mind your gap is a step-by-step how-to on meditation as a tool for developing leadership superpowers!
We want to know what you think. Tell us. Please leave a comment here and share the video… there is still time to spread the awesomeness and add to our growing community of superheroes!
Finally, I want to give  special, love-filled thank you to my mentor and homie, angel, Claudia Horwitz and to DayOne app for all the support it takes for this kind of dopeness to be brought to life.
Let's get our sit on and mind the gap!